Member Spotlight Series: Great Parks of Hamilton County
Member Spotlight
Nature, Park, Sustainability

In our Member Spotlight Series, we interviewed Great Parks of Hamilton County's CEO Todd Palmeter. The mission of Great Parks of Hamilton County is to preserve and protect natural resources and provide outdoor recreation and education to enhance the quality of life for present and future generations. In addition, the Great Parks enrich the region by inspiring nature-based experiences, celebrating cultural heritage, and building strong and healthy communities through our dedicated staff, volunteers, and friends. We learned about their relationship within the Cincinnati community, events, and other opportunities in the interview.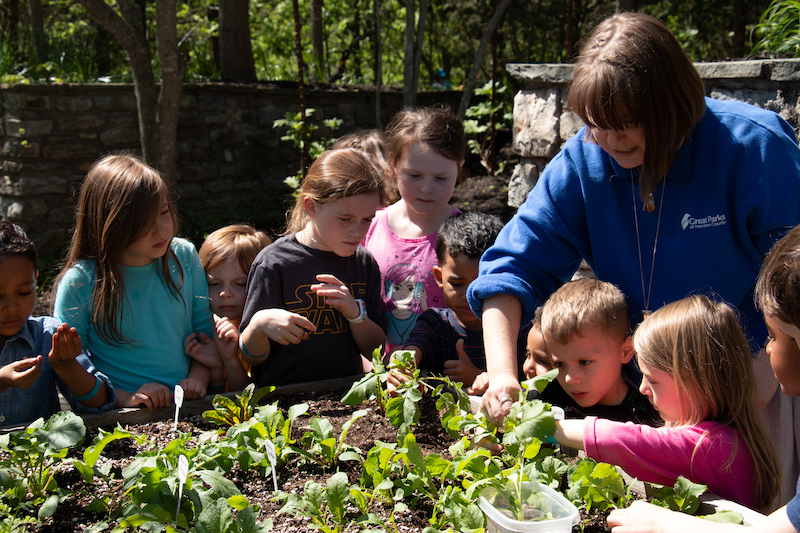 Kids harvest vegetables from the garden at Highfield Discovery Garden in Glenwood Gardens.
Tell us about the Great Parks of Hamilton County.
Great Parks of Hamilton County preserves and protects natural resources and provides outdoor recreation and education opportunities for all to enjoy. Your Great Parks include 21 beautiful parks and preserves spanning 17,742 acres across the county. Bike, hike, fish, paddle, walk, run, and play on over 78 miles of trails, several lakes and ponds, six golf courses, three campgrounds, two dog parks, and much, much more. So start your next adventure, plan an event, or begin making great memories by going to GreatParks.org.
Where are the Great Parks located?
Our parks and preserves have locations in several communities throughout Hamilton County and the City of Cincinnati. Here's a map: bit.ly/32BYgnw.
Is there a cost to visit a Great Park?
We ask visitors in cars to purchase a Motor Vehicle Permit, available online (greatparks.org/shop), at welcome booths near several park entry points or any visitor centers. Visitors can also check out a pass from a Public Library of Cincinnati & Hamilton County. We offer several Free Entry Days each year when MVPs are not required. (greatparks.org/about/free-entry).
Which locations are your favorites, and why? 
The Highfield Discovery Garden at Glenwood Gardens, the mountain bike trail at Mitchell Memorial Forest, and Fernbank Park are unique. I was involved in the planning and designing of those amenities early in my career with Great Parks. However, I enjoy spending time in our most visited parks due to the variety of amenities – Miami Whitewater, Winton Woods, and Sharon Woods. All of our parks serve different purposes, whether you're looking for a quiet walk, need an escape close to home, or want to take in some fantastic views.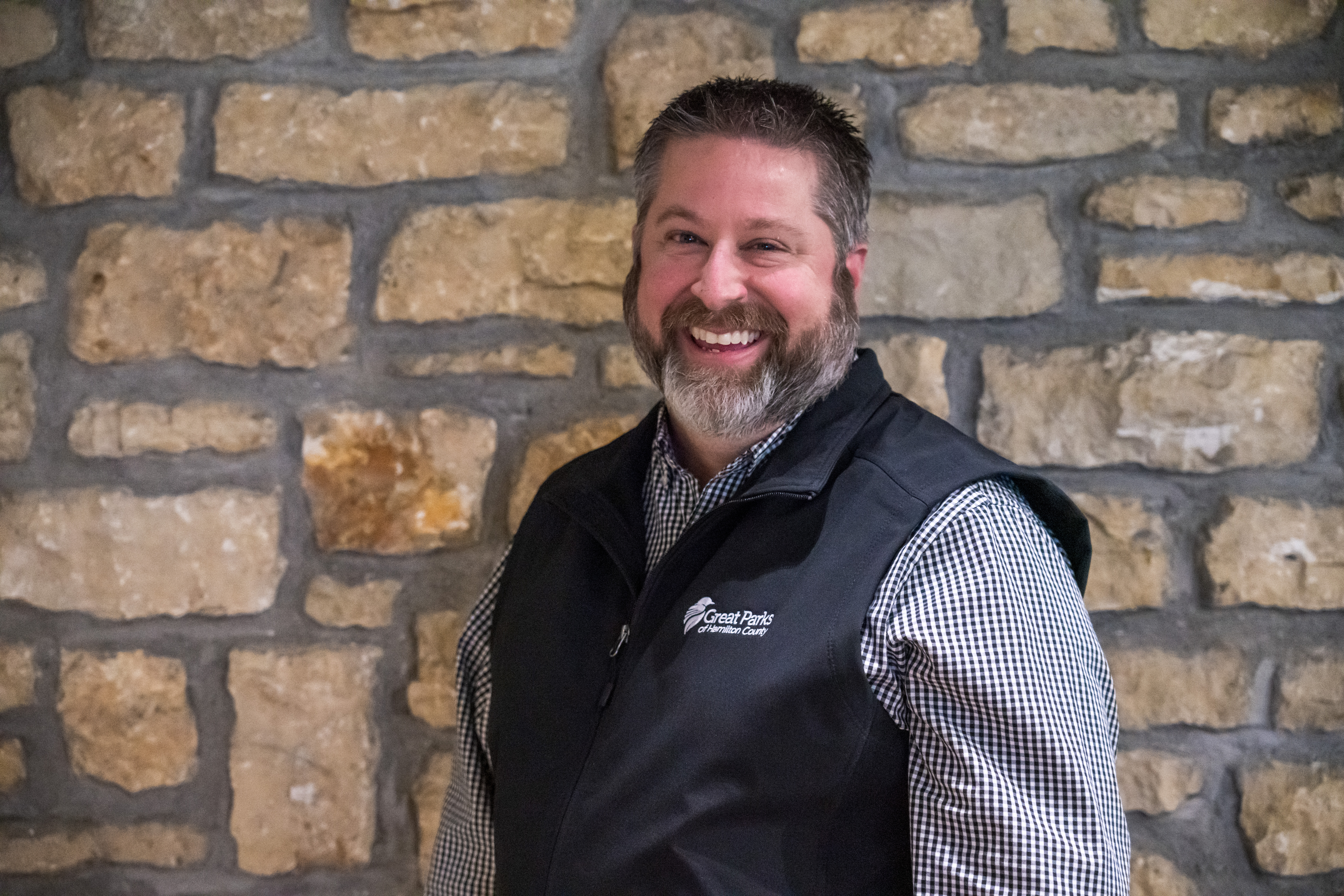 Todd Palmeter, CEO, Great Parks of Hamilton County
What do you love most about GPHC?
We are here for you, for everyone. Our spaces provide the much-needed relaxation and respite that we all need. Our areas include health and mental wellness opportunities along the 78 miles of trails, protected waterways, and natural areas.
Our spaces provide the much-needed relaxation and respite that we all need…
When did GPHC become a member of JASGC, and what prompted you to join?
(March 2021) To align with our master plan priorities of adding programs and events for diverse audiences, we need to better understand the culture of the various communities who visit our parks. Working with the JASGC and other local chambers will provide the partnerships and relationships we need to succeed.
What is the relationship between GPHC and the local international community?
Our parks are very active with users from various international communities through events, programs, and daily visits to the parks for walking and enjoying the outdoors. We will continue to strengthen our relationships with these communities. In addition, we will be very intentional about learning how to serve better everyone who uses the parks.
What would you especially want members of the local Japanese and Japanese-American communities to know about Great Parks?
As a leading conservation agency, Great Parks protects some of the most diverse habitats in the region and creates unique and memorable experiences for park guests. So when you visit, please think about how we can serve you better and drop us a line at information@greatparks.org.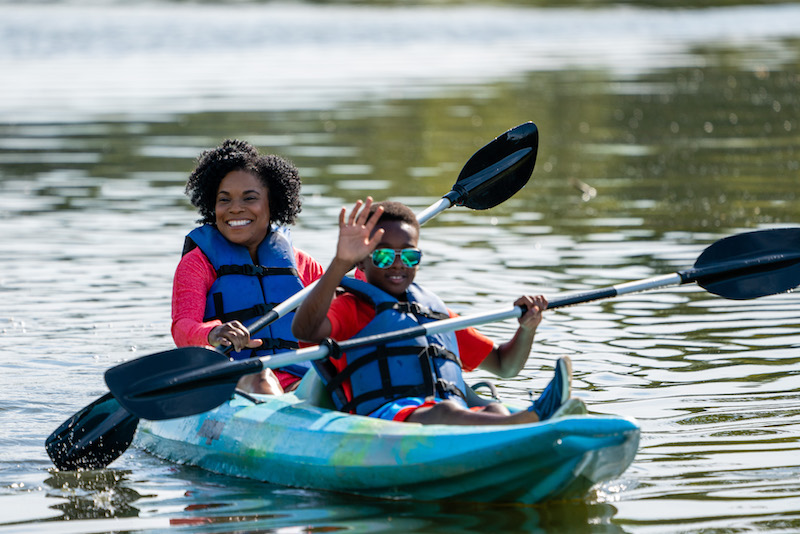 A mother and son kayak at Winton Woods
Can individuals and groups host events at Great Parks? If so, how does that work?
Yes! We have shelter and event space rentals and catering at our parks, which guests use for business meetings, family celebrations, weddings, group events, and more! You can go to greatparks.org/reservations to make a reservation and to learn more about available spaces.
Are there any public events at Great Parks?
COVID-19 has been limiting in-person events at Great Parks, but they are starting to return. In addition, we offer nature programs for children and adults, virtual programs, horse riding lessons, golf lessons, fishing tournaments, day camps, and more. To see upcoming events, visit greatparks.org/calendar.
Are there volunteer opportunities at GPHC?
Our volunteering events have also started coming back! We offer individual, community, and corporate volunteer opportunities. For additional information, please visit greatparks.org/volunteer.
How has COVID affected GPHC?
The biggest impact of COVID has been the significant increase in both visitation and trail use, and the trend continues in 2021. The community needs their parks, and we have been here for them during the pandemic and will be for generations to come. COVID has limited our ability for in-person programming and events. Still, it has also forced us to be more nimble, think creatively, and ultimately find ways to serve our guests better. We have ramped up virtual programming, social media, blog content, and other innovative ways to reach the residents of Hamilton County where they are.
What has been GPHC's most significant accomplishments to date?
Great Parks is the largest landowner in Hamilton County and continually strives to protect local greenspace and riparian corridors. 83 percent of the 17,742 acres we manage is in its natural state. Currently, we are putting the finishing touches on the future of your Great Parks with our community-driven Master Plan. One of our top priorities is conservation:
Improving and adding natural areas
Expanding access to preserved spaces
Enhancing the sustainability of our parks and preserves
You can find out more about our Master Plan process at mygreatparks.com.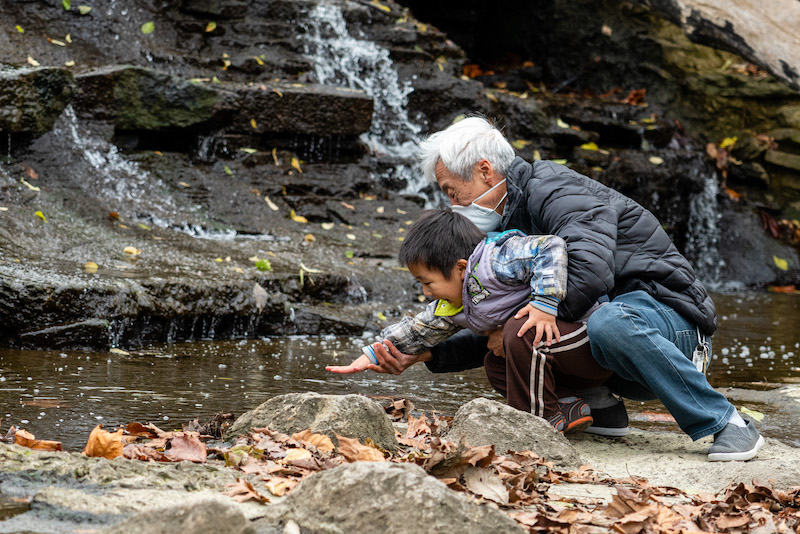 A child explores near Buckeye Falls at Sharon Woods
What makes working at GPHC most rewarding?
I love the fantastic team of professionals who I get to serve alongside every day to provide the best experiences for our guests. Our staff is passionate about our mission, vision, and core values. It always brightens my day when I engage with an excited colleague about what we're doing here.